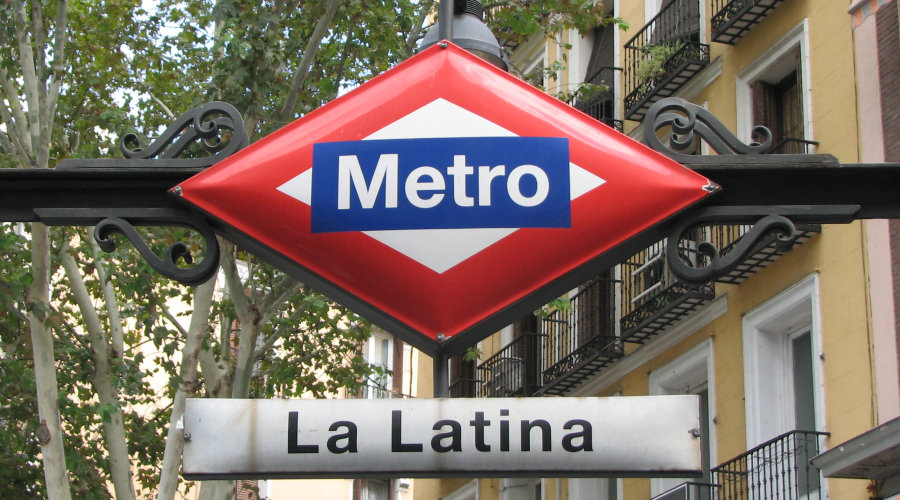 The secret is out. La Latina is the best 'hood in central Madrid.
Actually, the secret has been out for a while. La Latina Locals have known for a very long time, it's just the non-locals who have discovered us recently. And while not native Spanish, as a thirty-two year resident of La Latina – and two additional years in nearby Tirso – I'm totally a La Latina Local. I've seen kids grow up; spry adults turn into creaky elders; and commerce appear and disappear, all in the heart of this fabulous neighborhood.
So what is so special about La Latina? Read on for the scoop from a local.
It's super-central – about a ten minute walk from the Plaza Mayor – but mostly quiet, a village inside the city (except when non-locals arrive en masse to have fun).
It's cool in temperature as well as vibe – we get cooler winds almost direct from the mountains by way of El Pardo, the Casa de Campo and Las Vistillas park.
It's friendly – the locals know and greet each other on the street, in the stores and in the bar-cafés, striking up conversations on every imaginable topic.
It has everything that La Latina Locals need within easy walking distance, including access to Madrid Rio and Casa de Campo parks.
Visitors tend to stay in a few specific spots – so where do the La Latina Locals live their lives?
Bars / cafés: Muñiz (own churros in the morning, coffee, a quick beer and hanging out); old style Almacen de Vinos (Gerardo) and "Vinos" for beers and hanging out; all on Calatrava street. J.Blanco on Tabernillas street for aperitifs or beers. Paco on Humilladero is another traditional spot, now discovered by non-locals so in transition. All these spots are very authentic and very different from less-local spots around Plaza Humilladero – Tomas, Tomasa, El Viajero or designer tapa spot Juana La Loca which alas, took over the locale of a traditional tapa bar.
Food shopping: Best bread bakery in La Latina: Tahona del Capricho on Humilladero street. Best pastries at + Que Pan (More than Bread using plus symbol) on Plaza de los Carros (good bread, excellent pastries and cakes and a nice small coffee shop). Cheese and cold cuts at Los Andes on Toledo street (excellent selection of Spanish cheese, some foreign). Best wine and liquor shop: Vinomania on Humilladero, corner Sierpe (not huge but very good, varied selection of Spanish wine, including some nice surprises from places you would not expect). All the local mom-and-pop grocery stores have disappeared, but some of the Chinese, Latino or Moroccan-run places have strong La Latina Local support (Chino on Toledo corner Sierpe, Ay Madre la Fruta and two small supermarkets on Humilladero to name a few). And of course the La Cebada market: it's ugly from the outside and a little sad inside with lots of empty stalls, but the overall quality and service is very good.
Other shopping: La Latina is not a destination for shopping-shopping, though there are two interesting jewelry stores (Ruda and Almendro streets) and some fun and useful traditional shops (candles, espadrilles, baskets), though many other traditional shops have disappeared (cork store, wine-barrel maker, etc).
Churches:  Three La Latina chures are special for the neighborhood and for the entire city: La Paloma (south end of La Paloma street). The real name is San Pedro el Real, but everyone knows this church as La Paloma, home to the image of the Virgin of the Dove (La Paloma), Madrid's true if unofficial patron saint. This area is Where it Happens for the crazy fun La Paloma street party in mid August, and the church isstart and end point for procession on August 15. San Isidro (calle Toledo). Final resting place of Madrid's male patron saint San Isidro; this is start and end place for May 15 procession and where the faithful can venerate San Isidro's tomb. San Pedro El Viejo (Nuncio street). This church is home to the image Jesus Nazareno el Pobre, one of Madrid's most beloved religious statues, used in the very popular Thursday procession during Easter week.
Other noteworthy La Latina churches: San Andres on square of same name and San Francisco el Grande on south end of Bailen street (see post on this church at http://www.bridgetospain.com/san-francisco-el-grande/)
San Isidro museum (The Origins of Madrid) on Plaza de los Carros. While less local, this is a must-do for visitors to see the model and map of old Madrid (including most of today's La Latina) and to learn about Madrid's patron saint San Isidro, who was an 11th century La Latina Local.
The Barley Field: our empty lot. La Latina neighborhood has a huge empty lot between La Cebada market and Toledo street. It's the site of the old sports complex, torn down in 2009 after several inoperative years. Theoretically the lot and the spectacularly ugly market next door are part of an urban renewal program (new market and leisure center) – but Madrid is still emerging from the Crisis and until there is more money we have….. a hole in the ground.
That's the un-cool part. The cool part is that the hole in the ground is also the Campo de Cebada (The Barley Field), named for the surrounding "La Cebada" square and the market. Operating since 2010, it's a citizen-run outdoor cultural project, with concerts, story-telling, basketball, occasional circuses or mini-markets; the concept is a shared space where people can get together, chat, have fun, share ideas. Oh, and sometimes have August "pool parties" in protest for the delay in creating our leisure center – wear your swimsuit, bring buckets of water, squirt-guns and your towel. City Hall has given its OK on the Campo de la Cebada for now, though probably no funding for activities. It's not clear when / if the urban renewal project will happen or what will happen to the Barley Field when (if) the project happens (go to http://elcampodecebada.org/ and "Agenda" to see upcoming events at The Barley Field).
Practical information:
Geographical limits: La Latina borders are more or less these: from Plaza Segovia Nueva (just south of Plaza Mayor) south along Toledo street, Estudios street and Ribera de Curtidores to Ronda de Toledo, then west to Glorieta Puerta de Toledo, north-northwest along Gran Via de San Francisco and Bailen to the Viaducto over Segovia street and Segovia street east back to Plaza Segovia Nueva. That's the big picture: many locals would say that the part between Toledo and Ribera de Curtidores is Rastro, not La Latina, others would end the neighborhood at Cava Alta / Almendro in the north instead of Plaza Segovia Nueva. And take note: central Madrid La Latina neighborhood takes its name from the subway stop, and is completely different from City Hall administrative district La Latina, a southwest slice of the city, not in the center.
What's in the name: La Latina metro stop takes its name from Beatriz Galindo, founder with her husband of Nuestra Señora de la Concepción convent. Beatriz was a writer and teacher, most notably to Isabel La Católica (who ruled 1474-1504) and Isabel's children; Beatriz's nickname was La Latina due to her skill in Latin from a very young age. The convent was founded in the early 16th century on Toledo street next to Plaza de la Cebada, outside the city center of that time and next to a small hospital. The original building was torn down in 1904 to widen Toledo, and shortly after that a new convent built in a neo-mudejar decorative brick style. Fiestas Paco party-ware store is at street level of the current convent, which bears a plaque explaining the founding of the original convent.
Metro stops: La Latina in the north, Puerta de Toledo in the south and Tirso de Molina a little out of neighborhood to the east.