Spain's traditional Christmas decoration is not a Christmas tree but a Nativity scene (that's Belen or Bethlehem in Spanish) . Some Nativities are small with just the basic figures, but many are large and elaborate, including a stream made of crinkly blue plastic, a windmill, blacksmith or chestnut seller: for me, together those seem to represent water, wind and fire. In addition to the obligatory Holy Family, shepherds and Three Wise Men, many large Nativities have entire village scenes, with a wide variety of everyday people going about their everyday lives.
In Catalonia (northeast Spain, around Barcelona) they have another character, going about his everyday life. This character is so traditional that after admiring the Nativity and complimenting the owner, the next step is to spot this little person.
Warning: If you are easily offended, stop right here. Really!
Still here? So what is this character and might it be offensive?
It's the caganer, dubbed Mr. Poopy by my brother (from now on we'll call him Mr. P to trick the profanity filters; one p-word might slip through but more might not). The traditional Mr. P is a little figure of a Catalonian farmer with his pants down around his ankles, crouched over and with a little brown pile in just the right place.
This might sound shocking, but there's actually a good reason. As a farmer, Mr. P understands the importance of fertilizing his fields, and that's what he's doing, fertilizing his fields so the next harvest will be a good one. Mr. P brings good luck, so he's present in all Catalonian Nativity scenes.
Let's think for a minute about fertilizing the fields. Mr. P is a lighthearted reminder that we all need to fertilize our fields, if not in this literal fashion, in another way. Fertile fields grow new ideas, new friends, and fabulous adventures, a good harvest for the body and the soul. We all need to find ways to fertilize our fields, whether that means unplugging the computer, visiting a museum, coloring a mandala, or walking in the woods.
In that spirit, my own Mr. P stays out all year round. I did move him from my cluttered work space to another shelf, where he watches my back – and maybe over my shoulder as I write. Yes, I also walk in the woods, color mandalas and hope that in the new year I can sew and knit again, yet another way to fertilize the fields.
Happy New Year! May your fields be always fertile. Remember to do your part.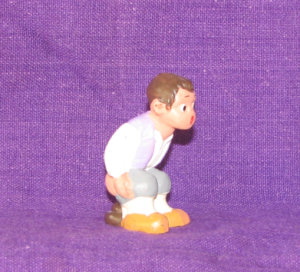 Want to see more caganers? Even if you made it this far without being too offended, think three times before clicking on the link. Seeing important people from politics, sports, the arts and other occupations in Mr. P's position is a little disconcerting. But if you're ready, click away (just don't say I didn't warn you!) http://www.caganer.com/es/
Usually some stalls at Madrid's Plaza Mayor Christmas Market have figures like the one on the left – I've also seen them in a shop on the west side of the square, more or less behind the horse's tail.