Have you ever noticed a quirky detail under a balcony, a beautiful entranceway, an unusual shape building on a corner lot, and wondered who thought it up? Someone put it all together – an architect who by inspiration and planning created a building that was structurally sound, visually pleasing, with its own personality but also fitting in with its surroundings.
That's the ideal situation and it's a tall order, but it can be done. Madrid really does have a sort of architectural personality – or rather, as many personalities as neighborhoods – and lots of great buildings, especially in the older part of the city. Churches, convents, palaces, banks, all somehow fit together to make Madrid distinctively Madrid.
This article is a fast introduction to architecture in Madrid, highlighting several influential or prolific architects from 17th to 20th centuries. It's interesting to note how architects first patrons were kings and nobility, later on City Hall, cultural organizations (Bellas Artes building by Antonio Palacios), real estate developers or occasionally wealthy people looking for a statement (Longoria Palace by Grases Riera).
Like most modern cities, Madrid has lost many beautiful buildings, torn down in the name of progress, destroyed by time, fire, or so altered by remodelling that they have lost their original character. But there's still lots to enjoy! Take a walk in the city, look around you, become an architectural sleuth to see if you can identify buildings by these architects – or discover other architects who helped create the Madrid we can see today.
Juan de Herrera 1530? – 1597. Worked mainly for: King Felipe II. Work in Madrid: Bridge over the Manzanares at bottom of Segovia street. Important work outside Madrid: San Lorenzo de El Escorial Monastery (started by Juan Bautista de Toledo, altered and completed by Herrera); also worked on Aranjuez palace and Valladolid cathedral. Characteristic style, called herrerriano in his honor: symmetrical, geometric lines, very little decoration, sloped roofs usually in dark slate, square towers at corners of buildings with four-sided pyramidal roofs topped with tallish pinnacles. Quick summary: While only the Segovia bridge remains of his actual works, Herrera's influence is visible in later buildings: Plaza Mayor (designed by Herrera, destroyed by fire late 18th century and rebuilt in same style), Old City Hall (Plaza de la Villa, Juan Gomez de Mora project, started around 1645), Foreign Ministry (Asuntos Exteriores, Plaza de las Provincias by Plaza Mayor, built as noble's jail, Juan Gomez de Mora project started 1629), or the Escorial-like Air Force headquarters (Princesa street at Moncloa, built 1942-1951)
Pedro de Ribera 1681-1742. Worked mostly for: King Felipe V, nobles. His work in Madrid: Conde Duque barracks (Conde Duque street), Hospital for the poor (Fuencarral 78, now City History museum), various noblemen's palaces around the city (current Chamber of Commerce on Huertas street, current Treasury building on Alcalá street, doorway of Filmoteca Institute on Magdalena street). Also worked on Montserrat monastery on San Bernardo street, San Cayetano church on Embajadores street, Mariblanca fountain (replica of statue now in Sol at start of Arenal street), urban planning for southwest side of city, Toledo bridge over the Manzanares river. Characteristic style: brick with stone decoration, very large, ornate carving around main entranceways. Quick summary: Though some buildings are fairly plain, Ribera is usually placed under the extreme rococo style called churrigueresco for a family of architects (brothers Jose, Alberto and Joaquin Churriguera) who were less favored by Kings and nobility.
Ventura Rodríguez 1717 – 1785. Worked for: Fernando VI, Carlos III. His work in Madrid: San Marcos church (San Leonardo street), interior of Encarnación monastery, various palaces for nobles (Liria palace on Princesa street, Altamira palace just off Gran Via, Boadilla del Monte palace). Designed important ornamental fountains like the Cibeles, Neptuno, Apolo, Alcachofa and others, all created by sculptors following his designs. Worked on Aranjuez palace, Royal Palace, San Francisco el Grande church. Important work outside Madrid: Santo Domingo de Silos monastery church, Pilar basilica in Zaragoza, Pamplona catedral facade, various city halls, jails, schools, urban planning and civil engineering projects around the country. Characteristic style: Baroque – neoclassic. A prolific and imaginative architect, but when Carlos III ascended the throne royal favor passed on to Francesco Sabatini.
Francesco Sabatini 1722-1797. Worked mainly for: King Carlos III, some for Carlos IV. His work in Madrid: Puerta de Alcalá city gate, Royal Customs house on Alcalá street, original layout of Botanical Garden, Marqués de Grimaldi Palace (Plaza Marina Española, also called Godoy Palace), rebuilt Comendadoras monastery. Participated in building of Royal Palace, San Francisco el Grande church (Bailén street), Hospital General (now Reina Sofia art museum), rebuilding Plaza Mayor after fire. Various projects for paving streets, creating and decorating promenades in south of city. Remodelled Cuesta de San Vicente (along one side of the Royal Palace), created waste water system. Characteristic style: Neoclassic, based mainly on Italian Renaissance instead of ancient Greece and Rome.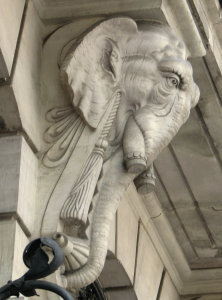 Jose Grases Riera 1850 – 1919 Best known for grand monuments and for modernist style (he knew Antoni Gaudi). In Madrid: Longoria Palace (Fernando VI street, now Spanish Society of Authors and Editors), monument to Alfonso XII by the lake in the Retiro, triangular building at Alcala 14, originally for the Equitativa insurance company and now under scaffolding as part of gigantic rehab project – but if you can peer around fence you can see the elephants under the balconies (shown at left) .
Antonio Palacios 1874-1945: His work in Madrid: Communications Palace (Plaza Cibeles, now City Hall, photo above), Day-Workers hospital (Maudes 17, now a Madrid government building), Rio de la Plata bank building (Alcalá 49, now Instituto Cervantes), Círculo de Bellas Artes (Alcalá 42), design of first Metro stations (all changed except Chamberi stop on line 1, now a Metro museum), remodelled Hotel Avenida on the Gran Vía, various other buildings and urban planning. Important works outside Madrid: quite a few in his native Galicia. Characteristic style: Lots of big spaces, public buildings, style varies from very classic (Rio de la Plata bank building) to very ornate (Communications Palace).