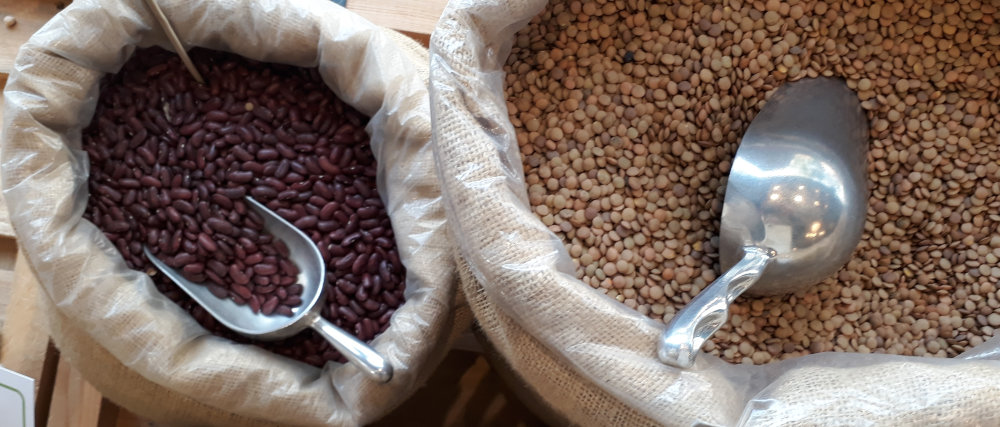 One of the best additions to Madrid's commercial scene in recent years: stores where you can buy many kinds of non-perishables by weight. We're talking different kinds of nuts and dried fruit, many kinds of beans, lentils, pasta, various grains including oddities like barley, and lots and lots of rice – one place has 15 kinds, and even then not the really odd stuff.
So why buy at these places? Well, most stores bag in paper, so you are doing your bit for the environment. You can also buy just about any quantity, which is good if you only need a little for a recipe and don't want leftovers, whether to avoid temptation of extra chocolate chips, or due to space constraints. You can also get a small amount to try an oddity – green rice, black quinoa, chestnut-flour pasta – or get a mega amount of something you know you like a lot but can rarely find, so you want to stock up.
There are quite a few of these stores nowadays, here's a selection with my admittedly subjective comments. (niceness is an important factor for choosing where to shop!). At any of these places there shouldn't be a problem if you take your own bag, but you should definitely ask before assuming it's ok.
A note on quantities:  many of us think more by volume than by weight. You can ask for a scoop (una pala), half scoop, or the weight you want.  When getting beans, grains or pasta, I usually ask for a quarter-kilo, which is a little more than a half-pound.
Casa Ruíz. This is my favorite, there's a good selection and one store isn't far from my apartment. Small chain with stores in Barcelona and four stores in Madrid center-city. Store employees bag, in paper. Large, good selection, well laid out. They do themed gift boxes, too. My opinion: employees at Santa Maria de la Cabeza store are nicer than Andrés Mellado – those are the two stores where I shop. More info at https://casaruizgranel.com/
Pepita y Grano. Another small chain, three stores in Madrid. Store employees bag, in paper. Good selection, including some really unusual rice. Have only shopped at their newish store on San Bernardo, really nice employees. More info at http://pepitaygrano.com/
Placeres A Granel. Medium size independent store (not a chain) near Argüelles metro. Super cute store, good selection, and very nice woman owner / manager. Store employees bag, in paper. Calle Guzman el Bueno 4. More info at https://placeresagranel.negocio.site/
El Granero de la Corredera. Medium size store, two in Madrid, I've only seen the one near Noviciado metro. Clients bag, in paper. Good selection, though I prefer layout of other stores more. Corredera Baja de San Pablo 33. More info at http://www.elgraneldecorredera.com/
Casa Terra. Biggish store just off Gran Via. Nice layout and good selection.  Lots of unusual pasta, not wheat-based. Store employees bag, in paper. Nice people.  More info at https://casaterra.es/
Granel Madrid. Smaller store in the upper Rastro area. In Covid-times you may need to wait if employees are waiting on other clients. Smaller so less selection, but still very worthwhile, this is where I go if need something in a hurry (it's closer to my apartment than any other store). Generally nice, especially the woman. Employees bag, in paper. Calle Embajadores 12. More info at http://granelmadrid.com/
Bio c'bon. General health food store that has some products by weight. French chain with three stores in Madrid. Clients bag, in paper, from plastic containers with levers. They used to have pretty good selection, but I was at the Princesa store recently and they were very low on stock on everything, not just products by weight. Check online before heading to any of their stores, I think the company has had some economic issues and may be closing at least the Princesa store. More info at https://www.bio-c-bon.eu/es
Salud Mediterranea. Another general health food store with some products by weight. The by-weight selection isn't huge, but this is one of the best health food stores in Madrid, three stores, one near Atocha (the one I know), one near Chueca (which is mostly if not all cosmetics and supplements, not food), and another store in Salamanca neighborhood. Client bags, in paper, from plastic containers like previous place. More info at http://saludmediterranea.com/