Loads of bulls. Loads and loads of very large bulls.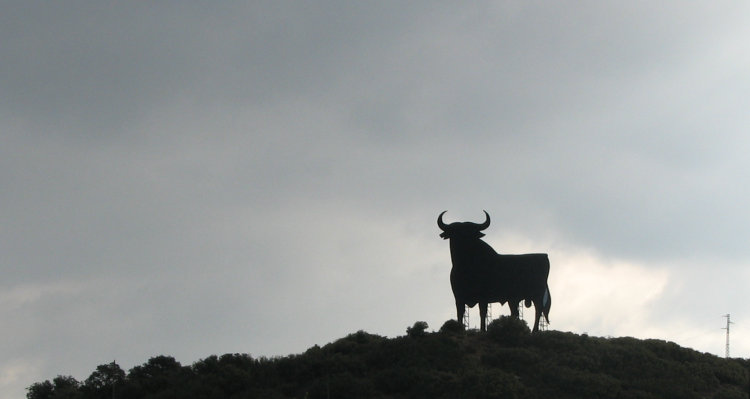 What's with Spain's huge roadside bulls? Surely it has something to do with bullfighting?
Well, no. The bull silhouettes started as roadside advertising for brandy. Originally they showed the word Veterano, one of several kinds of brandy made by a Spanish company named Osborne.
First created in 1956, the bulls were working billboards until 1988, when a European Union law prohibited advertising for alcoholic beverages near roads. Technically that should have been the end of the bulls, but there was such a huge public outcry against taking down the bull-billboards that the court (eventually) pardoned the bulls, declaring them to have "surpassed their original advertising function" and to be part of the landscape, both cultural and physical. The word "Veterano" was painted over and the bulls remained, observing the Spanish landscape from hills along the highways.
Now the bulls are almost an unofficial, tongue–in-cheek logo for Spain, at least for the bulls-and-flamenco version of Spain, which of course is not the only version of Spanish-ness. Watchbands, mugs, tee-shirts, ties, bookmarks, stickers, keychains, lighters, shelf-size replicas and lots more can be found at tourist shops and official Toro de Osborne shops. Oh, and I've heard tell of bull tattoos, on public and not-so-public parts of the anatomy.
The bull almost-logo has had some backlash, equally tongue-in-cheek. Regions with strong not bulls-and-flamenco identity have created their own animal silhouettes, most notably Catalonia, where a donkey silhouette mimics the bull quite closely. (I've also seen sheep and goats, not as well done and not as frequent as the donkey spinoff, but maybe that's only a question of time). So far, the donkeys are only for bumper stickers and small items – no donkey billboards, though some good Photoshop photos show large donkeys standing on roadside hills.
Travelling around Spain it seems the bulls are everywhere, but that's not quite true. There are loads of bulls in Andalucia (23), Castilla-Leon (north-central plains, 14) and Castilla-La Mancha (south central plains, 13). Interestingly, these are the stereotypically "Spanish" landscapes of wide rolling plains, where the bulls look best. Aragón and Extremadura, both bordering previous regions and with at least some of the same kind of landscape have 6 and 5 bulls respectively.
Following that theory, it's puzzling to see 11 in the Valencia region (eastern seaboard, almost no rolling plains), especially when Murcia, neighbor region to the south has none – so perhaps the number of bulls in a region has something to do with fondness for brandy, absence of that fondness, or just speedier action taking down the billboards in 1994. And knowing about sharing or not sharing the bulls-and-flamenco identity, it's not surprising that there are no bulls in Catalonia, only one in the Balearic islands (sharing many of Catalonia's identity issues) and also only one in the Basque region.
So as you travel around Spain, do some bull-spotting. Can you find all ninety-one?
Bull trivia: These critters are big – 14 meters / 46 feet tall and 4000 kilos / 8818 pounds. They're anchored with a lot of cement, and a full metal support structure on the back side, also painted black so almost invisible from most angles. The bulls are ummm anatomically correct, as you can tell at a quick glance.
Learn more: http://www.osborne.es/en/toro-de-osborne/