"Excuse me, señora, could you tell us where the Carrilet is?
Without saying a word, the elderly woman pointed behind us. We turned, and rather embarassed, recognized the stone foundations of a railway bridge right behind us. No roadbed on top, but the foundations were definitely there.
Really, we should have seen it. But that was 1993, our second day of biking an old railbed only partially converted to a bike track and we hadn't developed the skills that would guide us later on. One thing quickly learned: when in doubt, it was best to ask someone older. Many would remember when the railroad was still in use.
Losing train service is bad news for a town, but now the old railbeds have an alternative use for walking or biking, a use that has gone from marginal to mainline in a very short time, often bringing employment and eco-friendly development to rural areas. Most of these trails are used by locals of all ages – grampa walking for health, ladies out for a Sunday stroll, joggers, kids learning to ride bikes – as well as visitors exploring on foot, by bike or on horseback.
Before thinking "not for me" please read on a bit. Spain's Vias Verdes have something for just about everyone. They're a great add-on to other trips as well as a destination of their own: a pre-lunch stroll, access to great scenery or a historical sight, a way to burn off kid-energy. The Vias Verdes are definitely something to keep in mind as you start thinking about upcoming spring holidays.
Rails to rail-trails, a bit of history: Spanish train company RENFE was set up in 1941 to create order in Spain's chaotic and almost bankrupt. Renfe immediately closed many train lines as unprofitable at that time, then again in the 1960's – 1980's as freight and passenger traffic moved towards the highways. In numbers, a detailed 1993 study showed 7,600 kilometers (about 4,720 miles) of unused railbeds.
That's a significant year: in 1993 the Fundacion de Ferrocarriles Españoles (FFE, Foundation of Spanish Railways) began coordinating the Vias Verdes program to convert the unused railbeds to rail-trails or greenways: tracks for bikers, walkers and horseback riding. Around 1,700 kilometers (about 1,000 miles) have been converted since 1993.
What are the Vias Verdes like? Rail trails are generally not hilly, though some of the old mining railroads have a prolonged grade in one direction or another. Just choose your direction correctly you'll be cruising downhill.
About 60 of the 93 rail-trails created to date are equipped with bridges, tunnels, signs, kilometer markers, benches for resting and a good surface. Quite a few of these trails are stroller and wheelchair-accessible, appropriate for children who are still wobbly on their two-wheelers. Theoretically on these trails there is no motorized traffic – but in a few cases the trail is used for local traffic.
The remaining trails can be used by the adventurous. Depending on the trail there may be little or no signage, tunnels with no lights, rough surface or navigational issues. These rail-trails are not dangerous but are usually more challenging – and quite possibly more fun for experienced walkers and bikers.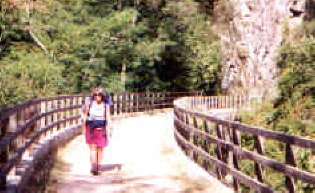 Play detective! While on the Vias Verdes, watch for signs of their rail history, an detective game that's fun for adults as well as kids. Check out the railbed itself, complete with bridges, embankments and tunnels. Look for old train infrastructure like loading docks, water tanks, signage, freight yards and an occasional tie still embedded in the ground. Notice the "recycled" stations, somehow still train-like but with new uses like bike rental, art or music schools, police or fire stations, hotels, restaurants, libraries, a car wash, bathhouse for swimming pools, churches or even part of a convent.
For more information see website www.viasverdes.com – the English section is pretty good.
For route information, go directly to itineraries / itinerarios link at top left. All trails have basic information on distance, maps, trail surface, and some trails have full route information on accommodations, local fiestas, bike rental, tourism offices (where you could ask about horseback riding). Look for the green leaf on trail listing to see what trails have extra information. Most routes have comments by users (in Spanish), good to check especially if you are less experienced or traveling with children.
Want some suggestions? See below – an asterisk* after the name indicates trails with more route information on website.
Carrilet – I (Girona)* An old mining railroad that also had passenger service. Follows a pretty valley between medieval Girona and Olot. Best parts: Olot – Les Preses and San Feliu de Pallerols –
Amer. A personal favorite, near pretty villages, a lovely natural natural park, Girona city and more.
Terra Alta (Tarragona)* Inland Tarragona, goes through wine country and a convoluted landscape of low mountains. Lots of tunnels, most light up automatically as you enter, but good to take a flashlight just in case. Best part: Bot – Pinell de Brai (in that direction, downhill). From Pinell you can continue on the Baix Ebre rail-trail to Tortosa and then to Amposta on the Ebro Delta.
Senda del Oso (Asturias) An old mining railroad. Spectacular scenery, try to see at least Peñas Xuntas gorge. This rail-trail is usually considered one ove the best in the country. Near Oviedo and several of the Asturian pre-Romanesque churches.
De Pas (Cantabria)* From mountains almost to the sea, this rail trail has Cantabría's beautiful green scenery. Goes through Puente Viesgo spa town.
Plazaola (Navarra)* Originally a mining railway, later enlarged and lengthened to include passenger service. Pretty mountain route, be sure to travel north for a downhill cruise.
Sierra de la Demanda (Burgos) Another old mining railroad, see the smelting chimneys in Barberillo de los Herreros. The whole trail is pretty, perhaps the best is around Pineda de la Sierra (nice church). This railbed continues north (unsigned) to near archaeological site Atapuerca, discovered when the railroad was built in the late 19th century. The southern end is near various cultural sites in eastern Burgos.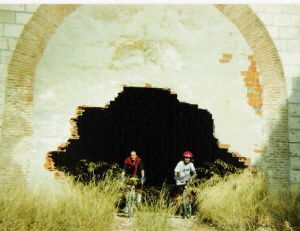 Alberche (Madrid) A Primo de Rivera project that never saw trains, what now remains is from San Martin de Valdeiglesias to Picadas dam. Best part: along the Picadas reservoir, starting by the M501 highway. Not signed but following edge of reservoir no way to get lost. Absolutely flat, nice scenery, a good day trip from Madrid.
Jara (Toledo)* Another Primo de Rivera project, this trail is in western Toledo, between Santa Quiteria and Calera y Chozas. Usually considered one of the best rail trails in central Spain, when traveling north it's a long smooth downhill, with typical La Mancha-Extremadura scenery. The southern end is near Guadalupe monastery.
Sierra (Cadiz-Sevilla)* Yet another Primo de Rivera project, fully built and never used. Several of the old train stations have been converted to hotels and restaurants, one to a bird-watching center (near Zaframagón bluff, huge vulture colony). Pretty scenery. Near Ronda and the white villages.
Aceite (Jaen)* Southwest from Jaen through a typical landscape of olive groves, with nine iron bridges from the 19th century. The roughly parallel highways would be an interesting back route between Jaen and Granada.
Via Verde trivia
– The first: Senda del Oso and the Carrilet I were both created in 1993-94, Aceite shortly afterwards.
– The most visual: For scenery: my personal choice would be the rail-trails in the green north, other people would choose the more Mediterranean routes in the south and east. For impressive train infrastructure (bridges, tunnels, etc) Del Aceite, la Sierra, de la Jara, Serpis, Plazaola, del Oso are all good choices.
– How a Via Verde is created and managed: The process of creating a rail-trail starts at a local level, usually when a local government contacts the Fundacion de Ferrrocarriles Españoles (FFE) to ask about turning an unused railbed into a rail-trail. In some cases, the FFE contacts local governments to suggest the idea, especially if they're coordinating a project in an adjacent area. To encourage local governments to consider this idea, the Foundation maintains a pretty good website and does ongoing promotion like conferences and visits to functioning rail-trails.
Once the process starts, the FFE answers questions, gives ideas, helps with viability studies or proposals to get funding. They Foundation doesn't finance the projects directly, but they help find financing from governmental sources or sponsers. The cost varies tremendously depending on the condition of the railbed, but can easily reach 25,000 euros for a kilometer of trail.
A Via Verde needs to be well designed, useful for local people and a good draw for tourism to make that investment in money and energy worthwhile. Through good planning, good luck or maybe the boom in active travel, most rail-trails are quite successful, bringing recreational options for locals, employment and eco-friendly development to rural areas.
When the rail-trail is completed, the maintenance and management is carried out on a local level. The FFE displays information on the Via Verde website, and acts as a watchdog to be sure the local government fulfills their obligations. If a Via Verde is not managed correctly – unauthorized motorized vehicles on the trails being a big issue, lighting in long tunnels another – the FFE posts a notice on their website, hoping the problems will be solved. Theoretically a trail can be downgraded, which could reduce the number of users and revenue for an area.