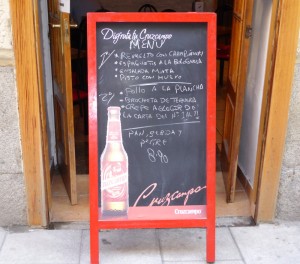 Spain is a foodie nation. So how do the locals eat?
The outside world knows about tapas and pintxos, the little bar snacks that can easily be a roving meal. Everyone knows about paella, gazpacho and maybe even about potato omelette.
But most non-locals do not know about one of Spain's favorite eating styles: the menú del día.
Menú del día, some history:
Spain's tourism industry took off in the early 1960's, with number of visitors almost tripling between 1959 and 1965. That took some adjustment for infrastructure, and thus the menú turístico was created by then head of tourism Manuel Fraga.
(We can also thank Fraga for the tourism slogan Spain is Different and for expanding the Parador hotel system, but let's leave those stories for another time).
So what was the menú turístico? The goal was to offer local-style food quickly and economically to the mass tourism market: by national law, all bars and restaurants had to offer a set meal, with starter, first course, second course, dessert, (usually with several choices for each), bread and beverage. Prices were fixed for the full meal, and were the same for all establishments in the same restaurant category.
The downside was that the fixed price was so low that restaurant owners tried to discourage clients from ordering the menú, or added supplements to some of the choices offered, so only the most basic meal was available at the fixed price. Another outcome was that to save work and money, some restaurant owners dumbed-down their menú food to the lowest common denominator of local cuisine (bad paella, bad gazpacho and greasy fried food), instead of celebrating the rich and not-always-expensive variety of Spanish food.
In 1970 the menú got a makeover: higher though still fixed prices, slogans to encourage locals to order the daily deal and menú del día as its new name. The focus was still local cuisine, and with locals ordering too, the menú started working better for everyone. When Spain reorganized after dictator Francisco Franco's death, regional governments took over tourism administration (1978) and fixed prices disappeared in 1981.
Nowadays:
The menú del día is immensely popular among locals – over 50% of Spanish workers who eat out choose this option. It's fast and usually excellent, with food varying from traditional home cooking to some very imaginative twists on the classics. Even non-classic restaurants like Indian, Peruvian, Chinese or vegetarian (to name a few) have adopted this system.
The exception to the prevalence of the daily deal: high-end or luxury restaurants, where the menú is absent entirely or has changed into a more elegant and more expensive menú de desgustación (tasters' menu) or another kind of fixed or semi-fixed daily deal.
Tips and tricks for the best menús :
The menú usually changes every day – you can find it chalked on a blackboard outside, on a handwritten photocopy in the window or on the table. Some restaurants don't change the menú so frequently, so it's part of the printed menu. And in some smaller places, the waiter will tell you the daily deal instead of a printed menu.
Usually the price includes two courses, dessert, bread, beverage and tax – but not always! Sometimes beverage or VAT tax is not included (10% for restaurants). The written menú must say what is included and what not – be sure to check as this can change the overall price considerably. (I got caught once when beverage was not included and wine was expensive).
If there are several restaurants in an area, take a stroll to evaluate your options. With the menú posted outside you can see what's available and select your favorite foods or avoid something you hate, not to mention comparing prices.
Sometimes this is called menú de la casa instead of menú del día, and on the Camino (Road of St. James) it's usually called menú del peregrino (pilgrim's menu), but the idea and the format is the same.
Some restaurants only offer the menú at lunch on weekdays, or have a higher price at night and on weekends. If you are a local or semi-local and find a place you like, take note so you can take advantage of this great deal.
The menú del día cannot be shared between two people, though many places have half-menus at lower (but not half) prices. Many places have special kids' menus.
Not too hungry, or food restrictions? You can order two first courses, often more than enough since firsts can include pasta, rice, beans/legumes, soup, veges, salad and sometimes eggs.
Really not hungry, or in a huge hurry? Look for platos combinados (combined plates, badly translated): A one plate meal with some kind of protein (fish, eggs, sausage, chicken, meat), some kind of carb (usually fried potatoes, sometimes rice) and maybe some salad. These are less expensive, but do not include beverage, bread or dessert. In my experience these can be good, but usually the food is usually not quite as good or as healthy as a well-chosen menú del día.