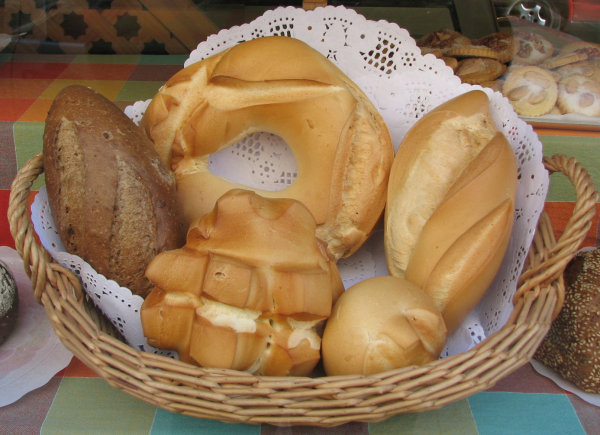 What food is a part of almost every Spanish meal? The answer is……. bread. Although some people may consider bread just what goes under the cheese or ham, for many others bread is almost worthy of its own food group, or at very least an important part of the "vital miscellanea" food group that includes garlic, chocolate, cheese and wine.
Deciding what bread to buy has gotten more and more complicated in recent years. No longer just classic white in three classic sizes (barra, pistola y barrita), bread now comes in an astonishing array of sizes, shapes and colors. Not a serious bread-aholic myself (only at breakfast or under cheese), to learn more I visited a selection of neighborhood bakeries in the center city, asking questions to find out about the bread scene in today's Madrid.
What makes good bread? All bakers agree on the basics: natural ingredients, no shortcuts, and daily baking. For these professionals, the frozen, pop-in-the-oven bread sold at gas stations and convenience stores is not really worthy of the name bread. "It's all right while still hot, but inedible just hours later" sniffs one baker.
For great bread we enter the realm of opinion and trade secrets. Bread is just water, flour, yeast and maybe additional ingredients (malt, milk, seeds) for certain kinds of bread. The art is in the mixture, in the process of kneading, rising and baking; most good bakeries have their own recipes and techniques that makes their bread distinctively theirs. One employee told me that they re-trained even experienced bakers in their own way of mixing and baking, delicate processes that can vary depending even on the weather. Another baker says that the baker's instinct on rising or baking time is just as important as the written recipe.
The baking business is not easy. Another truth mentioned in several places. Baking is physically demanding: lifting heavy bags of flour, heavy trays of bread, dealing with heat and hustle to get the bread out to the hungry, hurried public. To the physical difficulty add long, long hours: baking starts well before dawn to get the bread out the door for breakfast, then come long opening hours for the public. A tough schedule for any business, but especially for traditional family-run neighborhood bakeries with few outside employees. Many neighborhood bakeries have closed in recent years: to survive, a bakery needs to have a great location, good service, special products (pastries, empanadas, cookies) and great bread to bring customers through the door.
Is there really any difference between differents breads and different bakeries? Judging from the long line outside some bakeries, or people's willingness to wait for the next batch of "their" bread, some bread really must be better than other bread. Just imagine: a neighborhood bakery  in the Moncloa area makes 600 standard barras every day during the week and more than double that number on weekends – that's just one kind of bread and doesn't include their delivery routes.
What's the BEST bread? You decide!  White or dark?  Chewy or fluffy? Factor in the situation: what works for breakfast, for sandwiches, for stew or for grilled fish may not be the same. Factor in the all-important location: you don't want to cross the city every other day to get something as basic as bread. Factor things in, but be bread-venturous. Try new kinds from new places, you never know when you'll find something so amazing it belies the Spanish saying "Bread with bread, food for idiots".
Bread vocabulary (and explanations)
Bread varies s lot in the grain of the miga (crumb, inside) and the hardness of the corteza (crust). The most classic shapes are barra (classic long, wide-ish loaf), baguet (long but narrower), barrita (individual serving), molde (rectangular loaf like packaged bread), hogaza (circular loaf), rosca (big doughnut shape), and a variety of names that vary between regions or even between bakeries.
Bread also varies in the kind of flour and rising process, creating very different kinds of bread from similar raw ingredients. A few kinds of classic bread are shown below, but as you travel around Spain you should watch for and try regional breads: Castilla-Leon is famous for good bread, Cataluña for rustic payés, and Galicia for cornbread.
Candeal : White, fine-grain bread made with a special flour, golden crust. Comes in a variety of shapes, in Castilla-Leon sometimes a flat, round loaf with designs on top. Not available in all bakeries. Keeps better than most white breads.
Chapata: Similar to Italian ciabatta. Usually made from white flour with a little rye. Loaf is crusty, oblong and flat, inside usually spongey open texture. This bread is more complicated to make than standard white, has a different rising process. Good toasted with oil and for sopping up sauces.
Integral: Whole-wheat. Most frequent shapes are barra, molde and hogaza. Varies a lot between bakeries in crust, texture and moistness, you may need to shop around to find one you like; available in health food stores as well as bakeries. Keeps well.
Centeno: Rye. Comes in a variety of shapes, varies in color from light to quite dark, some breads are mixture wheat and rye. Some dark ryes are made with malt (first cousin to malt in beer or malted milk). Can be moist or dry, usually quite dense. Keeps well.
Multicereal: Mixed grain, sometimes with seeds on the crust or inside (poppy, sunflower, linseed). Might also be called cinco cereales (o siete cereales, etc) Not all bakeries have this hearty bread, but if you see it it's definitely worth a try.
Special breads: Good bakeries or bread boutiques have bread with nuts, raisins, olive bits or other treats. Around Easter you can usually find a fine white bread made with milk, used to make torrijas (bread soaked in milk or wine, fried and sprinkled with sugar).
Good bakeries in Madrid, just a selection
Mas que Pan: Plaza Puerta de Moros 3 (Metro La Latina). Independent and in my neighborhood, has a coffee shop. This will probably become my place, for now I've only had their carrot cake and empanadillas (closed covered mini-pizza), both excellent.
Pasteleria del Duque:  Plaza Duque de Alba (Metro La Latina). Also independent and in my neighborhood, has a tiny coffee shop. This place has more cakes than breads but their cakes are SO good that I'm including here assuming the bread is just as good.
Puntal: Santa Engracia 56 (metro Iglesia). Independent bakery in Chamberi neighborhood, has coffee shop. Newish so I have not tried personally, but it looks like they have a nice  selection
Mercado de Barcelo (calle Barcelo 6):  Panaderia Israel, lower level, stand 126 (across from the olives).  Good multigrain and rye breads. So far I have resisted their chocolate bread. Not terribly friendly, or maybe just having a bad day.
Mercado de Maravillas (calle Bravo Murillo 122): Horno Atanor (stand 223, a little to the left of main entrance, near the front). Unusual breads, over 30 kinds on weekends, including teff, rye, mixed-grain, cheesey or pesto rolls. They also used to have really unusual cookies and while those have disappeared, the classic cookies are highly recommended (double chocolate, yum!)  Other place associated to this one, same selection of breads plus beans and grains by weight and some dried fruits and nuts: A Granel, calle Comercio 13 in northern suburb Tres Cantos.
La Panaderia de Chueca: San Gregorio 1 (Metro Chueca). Small independent bakery with a wide selection of breads, including breads for people with special food needs. Also has pastries, a few other products and a small coffee shop. Website is quite informative.  http://www.lapanaderiadechueca.es/
Celicioso:    Hortaleza 3  (Metro Gran Via)  http://www.celicioso.es    Gluten free bakery with bread, cakes and brownies.  Also has a small cafe for enjoying your treats right there.
Bakery chains. A newish trend – most of these have coffeeshop attached to bakery, and lots of pastries as well as bread.  As sometimes happens in chains, some places are better than others; even if product is the same people are not.
Granier.  Excellent German style rye, multi-grain bread, olive focaccio, cheesy bread, onion bread etc.   This chain has expanded dramatically since first arriving in Madrid, so you may have one near your home. Website http://www.pansgranier.com
Panaria  Santa Engracia 45 and other locations. The website is not very informative, but the barkies I've see all look good.  http://www.panariapanaderias.es
Panishop. Lots of locations. Their multigrain "celta" is good, and they have other specialities I have not tried yet. Good muffins  http://www.panishop.com/