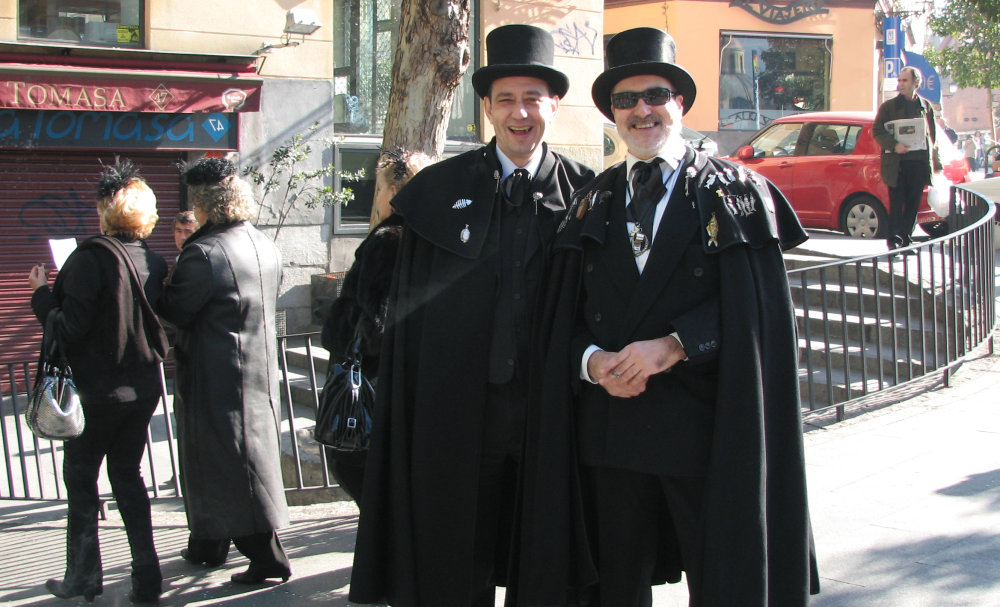 Madrid, morning of Ash Wednesday. Getting in the mood to bury the sardine
Carnival brings to mind elaborate Venetian masks, harlequin costumes, be-plumed and lightly-clad ladies, sambas, parades and roving kazoo bands. What's really behind this colorful festival?
A bit of background: Carnival is usually described as a last wild fling before Lent, the 40-day period of fasting, prayer and introspection before Easter Sunday. Carnival celebrations started in Europe during the Middle Ages (13-14th c) and spread from there. In this definition, the word Carnival may come from late Latin or Italian words meaning removal of meat or farewell to meat or flesh (carne levare, or carne vale), a logical interpretation as fleshly pursuits were frowned upon and meat forbidden for Catholics during Lent.
But many scholars say that Carnival's true origin is in the pagan festivals still celebrated in the early years of Christianity, later incorporated into the Christian calendar with new meanings. The most frequent theories suggest connections to the Roman Saturnalia festival, to late winter festivals celebrated in a number of cultures, or to Celtic and Germanic winter feasts. Saturnalia was celebrated in December, so the date is wrong for today's Lent-related Carnival but the spirit is right: revelry, parades and society turned upside down. The late winter festivals celebrated the almost-end of winter – sometimes considered the start of the year – and the imminent start of sailing season. Under the pagan definition, the word Carnival may come from the words carrus navalis (naval car or ship) taking the pagan deity to the festival – like the Roman Isis festival where an image of the goddess was carried to the sea on a decorated wooden boat to bless the new season. Followed by masked revellers, this sounds a lot like the floats in modern-day Carnival parades.
Whatever the origin, Carnival is a huge party, a kind of ritualized chaos accepted for a few days every year. Masks and costumes are an important part of the celebrations – sometimes with ancient symbolism about the agricultural cycle or scaring off spooky, otherworldly spirits. Carnival celebrations can be mysterious and sensual or colourful and raucous; yet others include a "battle" between characters symbolizing the frenzy of Carnival and the austerity of Lent. Some Carnivals show oral history or political commentary in the costumes worn or in the rhyming stanzas composed to record events of the previous year.
The end of Carnival can be a feast where everything that cannot be eaten in the next 40 days is eaten in large quantities – that's probably the origin of the name Mardi Gras or Fat Tuesday, the last day before Lent, or the pancake suppers traditional in some Anglican or Episcopalian churches. Another frequent final ritual is some sort of death and funeral – perhaps burning a puppet or scarecrow symbolizing Carnival, or a ceremony like the Burial of the Sardine.
Frenzy, sensuality, political commentary, masks hiding faces….. Carnival's excesses have not always been accepted by authorities. In the 16th century, Spain's Carlos I and Felipe II both restricted some aspects of Carnival, though fun-loving Felipe IV later brought back the party. Even in the twentieth century both Italy and Spain officially outlawed Carnival for around 40 years – in both countries the celebration was legalized again in the late 1970's – early 1980's. Today, while recognized almost everywhere as a good way of letting off steam and attracting tourism, there's sometimes an edgy undercurrent not present in other festivities.
Big fun for most of us, but perhaps not for the easily offended, the strictly moral, thin-skinned politicians or for the people in charge of keeping the festivities under control. So get out and enjoy – in costume or at least with mask, painted face or silly hat. You'll have a lot more fun if you're a participant instead of an observer.
Finding your Carnival:
When: Some Carnivals are in the late fall, others around January 6 (King's Day or Epiphany), but the usual dates are 5-7 days before the beginning of Lent; that usually means February except when Easter is very late. Many places start Carnival on Thursday or Friday, with major celebrations on Saturday and the Burial of the Sardine or another closing ceremony on Tuesday or Wednesday. Dates vary from year to year and place to place, so it's wise to check with a local city hall or tourism office to be sure of exact program. Tip: if you look on Internet, be sure you're looking at dates for the correct year!
Where: Carnival is celebrated in some way in most Christian countries around the world. Areas with strong ties to Catholicism usually have stronger traditions, but Carnival is also celebrated in many Protestant countries and even in India, sometimes fusing with decidedly non-Christian local traditions.
In Spain the best-known Carnival celebrations are on the Canary Islands and Cadiz, but Madrid has a wild one, too. Here's a selection of ideas to follow Spain's Carnival trail:
Cadiz: One of Spain's best-known Carnivals, street bands and choirs. Has a tradition of political commentary. More info http://www.andalucia.com/festival/carnival-cadiz.htm
Canary Islands: Santa Cruz de Tenerife and Las Palmas de Gran Canaria. Both have a longer-than-usual Carnival. Santa Cruz: A classic, has child and golden-age Carnival queens. More information: www.carnavaltenerife.es . Las Palmas: Drag queen and lots of street bands and choirs. More information (at least partly in English): www.lpacarnaval.com/
Galicia: Carnival is also called Antroido or Entroido in this region. The southern part of Ourense province has several interesting Carnival celebrations in smaller towns: Verin, Xinzo de Limia, Viana do Bolo and Laza are all in more or less the same area. The Carnival costumes in all these towns are very elaborate, often including enormous masks, sheepskins and huge cowbells – and Laza's Carnival is one of the oldest in Spain, if not in the world. Some of these villages have early Carnivals, others on traditional dates. More info: http://www.turgalicia.es/o-entroido-en-galicia
Guadalajara: This province is just northeast of Madrid province, with many miniscule villages, some half deserted, and a lot of lovely countryside. Several villages have interesting Carnivals: one of the best is in Almiruete (near Tamajon), with colorful costumes and masks (best day is usually Saturday). The botarga is one of the traditional Carnival characters here. Learn more at Guadalajara's tourism page  http://www.turismoenguadalajara.es/reportaje/vive-la-tradicion-de-las-botargas/NTk=/   (alas, might not work except near Carnival time)  or other page, scroll down a little to find links about different areas of Guadalajara and cultural traditions in each area. This is a great resource for weekend getaways, once you are ready to get off the beaten path. Go to  http://www.turismoenguadalajara.es/mucha-tradicion-guadalajara/
Madrid: The official pregon (opening ceremony) is usually a humorous speech by an actor, singer or musician, possibly followed by an outdoor dance or concert. The big parade is Saturday night (usual route: Retiro – Cibeles), with an appearance by Mr. Carnival and Ms. Lent (Don Carnal and Dona Cuaresma), lots of floats and music groups and groups of people in costumes – sometimes scantily dressed or with Carnival-esque themes right on the edge of naughtiness. The Circulo de Bellas Artes (calle Alcala 42) organizes an elaborate costume ball on Saturday night, and there will probably be some activities for kids over the weekend. Madrid's Carnival ends with the Burial of the Sardine on Ash Wednesday (technically the first day of Lent), when the Brotherhood of the Burial of the Sardine holds a mock burial in the evening, complete with a small coffin and mourners in black, sobbing tragically on their way to bury the dearly departed… sardine. This fun event starts near San Antonio de la Florida chapel on Paseo de la Florida (next to Casa Mingo chicken restaurant), with a burial procession to the edge of the Casa de Campo. If you're in the city in the morning, you might find the Brotherhood wandering around the La Latina neighborhood, getting in the spirit of things for the evening event. Where and when: various venues around the city on classic pre-Lent Carnival dates.   Website:  http://www.carnavalmadrid.com/    check to be sure it's showing the right year, they update quite late!