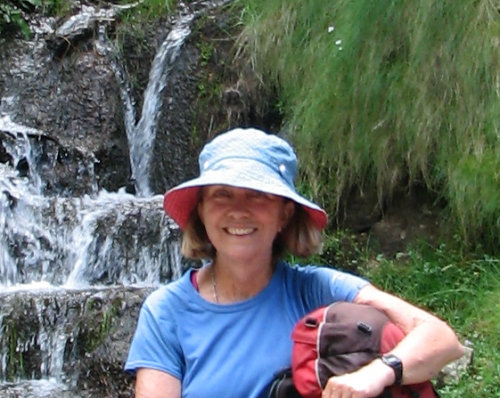 So who is Anne Pinder and what is she doing in Madrid?
Many, many, MANY years ago I did a summer Rotary exchange program in Greece. That may seem irrelevant, but it's probably the start of my love affair with the Mediterranean. Embarrassing tidbit: I was too chicken to ask for a full year program, nor did I want to miss my senior year of high school.  But exchange programs rarely tell you where you will go when you apply, had I known it would be Greece maybe I'd have made a different decision. Advice for anyone pondering a similar experience, or pondering for their children: if at ALL possible, go for longer rather than shorter experience abroad.
Then came college, and thanks to a fabulous high school Spanish teacher in hometown Grinnell (Iowa), I majored in Spanish, with junior year in Madrid. (that time I wasn't too chicken for a full year). It was a turbulent year not long after the end of Francisco Franco's dictatorship. It was also such a fabulous experience that though I had to go back to the USA to finish college, I knew I wanted to return to Spain one day. That happened fairly quickly, though how it happened is a story better told over coffee or wine, not here.
But because I returned so soon, I saw almost all Spain's "Transition" from dictatorship to democracy firsthand, including membership in NATO, membership in the European Union, the transition to the Euro, among other major landmarks. Lots of political, social and economic change, all fascinating and fairly rapid, so even today there are quirky contrasts of old and new.  And I love those quirky contrasts, the what-ifs, the if-onlys that so abound in Spain.
My other favorite things? Spanish history, especially medieval and Civil War (1936-1939, let us ponder). Any architecture prior to Gothic (Mudéjar, Mozarabe, Visigothic, Romanesque) and some though not all Gothic. Medieval quarters in cities like Girona and Toledo. Gaudí, though not the crowds flocking to his works. Castles (how not), even if in ruins on inaccessible crags. Popular architecture, where low-tech ingenuity creates practical and beautiful structures. Landscapes where humans have worked with, not against nature. Forests, especially beech and oak. Exploring, learning and sharing my discoveries.
And more….. All kinds of walking, from easy to challenging. Cycling. Kayaking and cross country skiing when occasions arise: good snow or kayaks on the right kind of water. Reading, everything from light fiction to fairly deep non-fiction. Writing, though there never seems to be enough time to write for my blog. Photography (amateurish). Sewing and knitting, though don't have much time for either. Most animals, especially cats and dogs.
My travel philosophy? Done right, travel connects people. Learning about the places we go and meeting new people almost always teaches us that we have things in common as well as differences -and often more in common than we'd ever dreamed of before traveling. Travel enriches, travel answers questions, but travel should also pose more questions: if a traveler returns home thinking they know everything maybe they haven't really looked or really thought about where they've been.
Personally, after all my years in Spain I am STILL learning, and very happy about that!